CVE Join Megawind Project
Offshore Monopile Production Process
Cambridge Vacuum Engineering (CVE) has joined the Megawind Project in collaboration with Haizea Wind Group and ScottishPower (part of the Iberdrola Group).
This significant research project will study the feasibility of using low vacuum electron beam (EB) welding for joining thick steel sheets in the offshore monopile production process.
CVE will work as appointed consultants and evaluate the benefits of fabricating offshore components using EB.
Background to the Project
The Megawind project will run for three years and is supported by the Hazitek programme administered by the Basque Government in northern Spain.
The project was born out of the need to improve monopiles, which is the most widely used type of foundation and has the greatest market potential, to integrate them with the new generation of large offshore wind turbines (+15MW).
The project's main objective is to develop innovations around the design and manufacture of the monopile itself, the transition piece, and the joining system between the two.
With the increase in the size of the wind turbines, the efforts that the foundation must support increase and, consequently, the size of the large pieces that support them also increases: the monopiles, the bases that are nailed to the seabed, and the pieces of transition, joining elements between the monopile and the wind turbine tower.
This all implies a series of challenges in the design, manufacture and installation of these components and the joining systems, as well as in the treatments and coatings that are necessary for their correct operation in a marine environment.
Monopiles to host bigger turbines need to exceed 10 metres in diameter and 100 metres in length.
Their manufacture by means of conventional welding methods requires steel plates of great weights and dimensions.
Project Goals
Haizea Wind and Iberdrola will address the adaptation and validation of a vacuum electron beam welding method, never before applied to this type of joint. The feasibility of this method would significantly increase the rate of production.
Associated with the increase in the size of the monopiles is also the increase in the size of the transition pieces and the connection flanges, which will need to exceed 10 metres in diameter.
Navacel will work on the design of large flanges in sectors, which will bring a new supplier to a market with high demand.
The bolted joints that Erreka will develop for future monopiles pose a challenge for handling, assembly and tightening, so the company will investigate the development of tools and procedures to facilitate the installation and tightening of larger bolts as well as the development of innovations in screws.
Galvasala, TTT Group and Fex will work in three lines to meet the challenge of addressing how components can survive in the demanding offshore environment.
Their scope includes coatings for galvanized parts, heat treatments and protection against corrosion by laser deposition.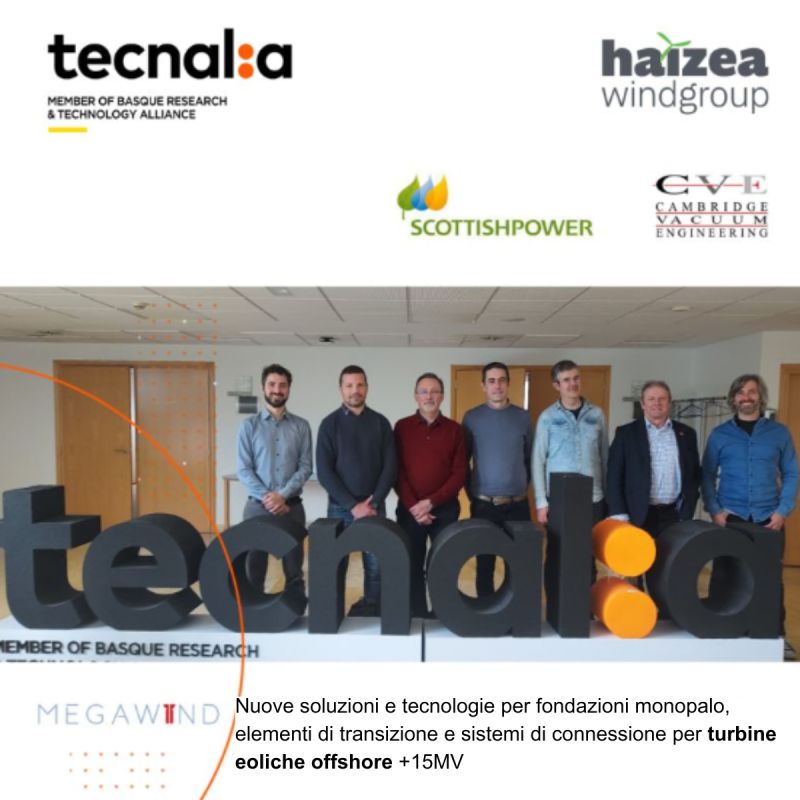 Figure 1. The Megawind project group.